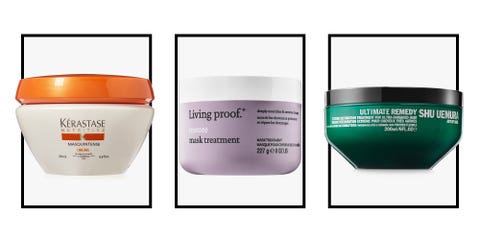 Courtesy
Think of a good deep conditioner like a protein shake for your hair—a concentrated hit of nutrition (that you probably don't need every day). The right hair mask "adds an extra layer of moisture to protect hair from heat tools, sun, harsh water, products, and everyday wear and tear" says pro-stylist and colorist Alissa Frum. With the right deep conditioner for your hair texture, "hair will be less frizzy, easier to style, and overall healthier." Its' a no-brainer.
Frum, who count the Fanning sisters as regulars in her chair recommends applying a deep conditioner once a week to clean or towel-dried hair. Here, her favorites for every hair type.
Advertisement – Continue Reading Below
For All Hair Types
Frum says this mask is "perfect for any hair type. It's not too heavy adds, amazing moisture, [and] feels soft and shiny immediately." We're all about that instant gratification.
Kératase Nutritve Masquintense Hair Mask, $32; amazon.com
Advertisement – Continue Reading Below
For Color-Treated Hair
"Let your hair color set for two weeks before doing a deep conditioning treatment," Frum says for those with freshly processed hair. "Especially if you get a gloss after color, its not necessary [to deep condition] and you don't want anything to effect the color."
Shu Uemura Art of Hair Ultimate Remedy Extremem Restoration Treatment, $68; birchbox.com
Advertisement – Continue Reading Below
For Course or Curly Hair
"Coarse or curly hair needs a heavier, extra hydrating mask," she says. "You can always leave a little in after rinsing to help smooth or weigh down curls, like a styling product [that] also moisturizes throughout the day."
Ouidad Curl Immersion Triple Treat Deep Conditioner, $38; ulta.com
Advertisement – Continue Reading Below
For Dry to Normal Hair
Use this product as a treatment "for course or curly hair to add moisture" Butf you're looking for a daily conditioner for dry to normal hair, Frum says this works too. "Just use a small scoop on the ends."
Living Proof Restore Mask Treatment, $42; Sephora.com
Advertisement – Continue Reading Below
For Highlighted or Double Processed Hair
"Over processed (highlighted/double process) hair needs a mask with a protein base," says Frum. This will help rebuild and bind the hair cuticle and cortex. We recommend this brand (which also makes great purple shampoo) for its protein-rich formula. Use it once a week in between regular washing.
Alterna Haircare Cavier Repear Treatment Masque, $45; Sephora.com
Advertisement – Continue Reading Below
For Treatment
For long haul hair goals, Frum suggests this "more natural and plant based" treatment. "It won't make your hair feel silky immediately, but the more you use it your hair only gets better and better. The results are amazing."
Leonor Greyl Masque Fleurs de Jasmin, $65; net-a-porter.com
Advertisement – Continue Reading Below
Advertisement – Continue Reading Below